The Everglades Adventure Two - Day 3
New Turkey Key - From Cold Front One to Artic Air Cold Front Two
---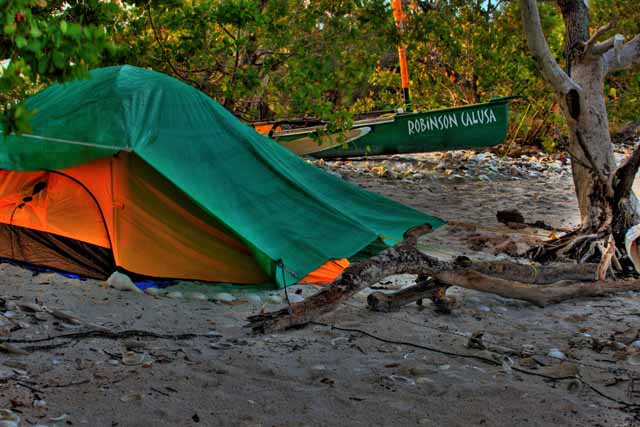 What an exciting night! I wake to the nature sounds of my new osprey friends chatter and wonder how New Turkey Key faired in last nights storm. What a fantastic feeling it is waking up in a tent out in the wild of the Everglades, alone! Well almost alone, my new friend Bob is caretaking the other side of this island. As I unzip the Apex tent for the ten thousandth time another new day unfolds with many questions? Should I stay or should I go - a day over my NPS permitted time already I should get cracking. Surveying the camp yeilds good news, everything survived including the green tarp cover albeit a few ripped out grommets. Time for a photography trip around the island before making hasty decisions, procrastination session.
---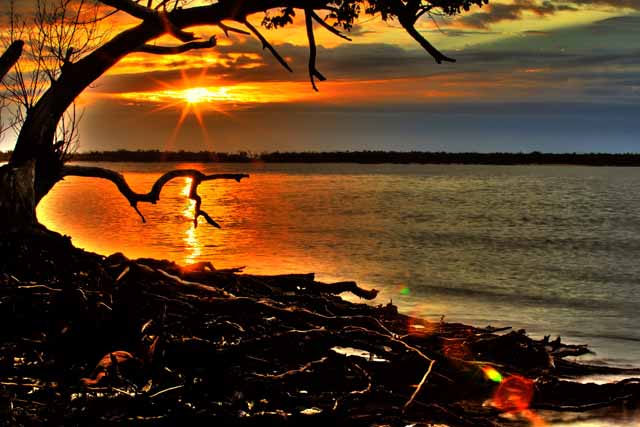 It is a bit cooler this morning but very nice out in the sun. The wind is already cranking up a bit with a few whitecaps rolling in from the Northwest. It is a short photo session as the wind increases even more and I decide to stay here one more day. Camp needs to be moved to the lee (Bob's side) of the island. I take a few sunrise shots on the Western tip and head back. This mangrove is one of my favorites shooting East into the morning sun.
---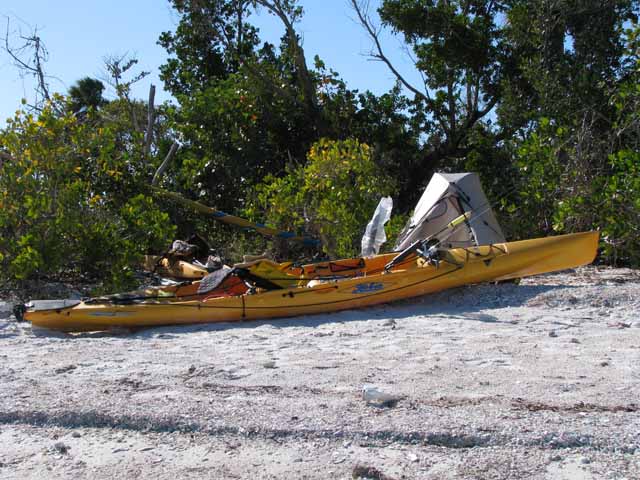 On return I stop and chat with Bob at his camp and decide on a protected spot a hundred or so feet away. Bob offers up some fresh brewed coffee in a percolator he has had many years. I don't drink much coffee these days but this smelled really good. Besides it provided time to chat and procrastinate even more. This is a shot of Bob's Hobie Adventure Island (sailing, peddling, trimaran kayak) and tent. He had a lightweight sun cover setup between some trees a short distance from here. Really enjoyed the coffee as we swapped fun prior life tales. The caffeine finally boosted my senses into camp moving mode and I was off.
---
After 4 or 5 trips over soft sand and shells with arms full I decide that it may be easier to make the 100 yard move using Robinson Calusa. I finish packing all the heavy gear into the canoe and paddle the short distance and unload. This move took about an hour but the finishing touches creep into two. This camp will not have quite the artsy look or million dollar view but is is very protected from the growing wind and blowing sand. It does have an $800K view for $4 - backcountry permits are $10 per permit plus $2 per person per day - so my 5 days this trip was a whopping $20.
---
It is hard to imagine the the amount of shell food this island is composed of. The prehistoric Calusa Indians lived primarily on seafood and New Turkey Key is a prime example
---
The Calusa's would break the conch somewhere near the top and extract the meat. The cut would break the attachment point and release the vacuum, they could then easily remove the tongue with meat all in one piece.
---
Can you visualize a Calusa breaking this conch open and eating it raw 300 years ago? I can...a journey back in time with the shell people
---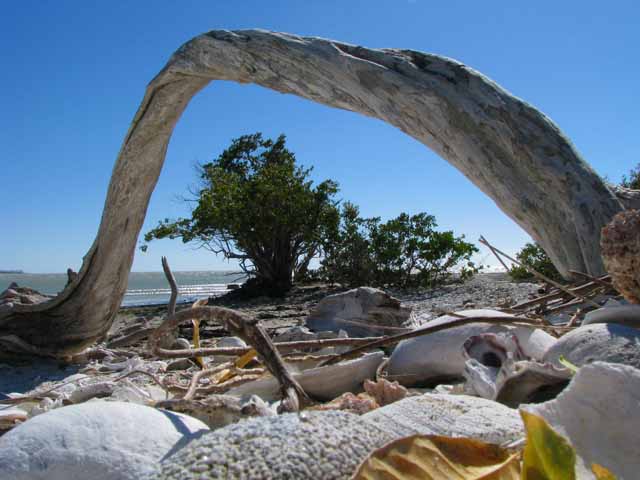 I walked around this driftwood mangrove arch many times each day and tried to figure how to photograph it. This was the best angle I could come up with. Dusk and Dawn shots did not work well due to its position. Rarely do I ever move anything I photograph - it is what it is - the way I came upon it.
---
A lone fresh fallen mangrove leaf in beach sand still damp from the previous nights rain storm.
---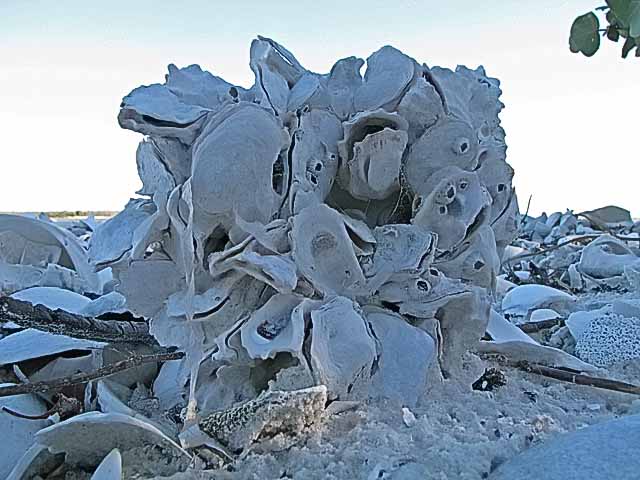 You may like oysters but most boat bottoms don't. This area is littered with clumps like this just offshore and under the surface of the water. Most of the oyster clusters above high tide have been broken down from run-ins with the larger conch and clam shells. Not something you want your canoe or kayak hitting at speed or in waves.
---
Pen shells are great food, taste just like scallops to me. They grow up to about 1 ft long and sit pointed end down in the bottom.
---
These small sharks came up in the cove right next to shore. By the time I could get near them they were gone out in the rough water.
---
Land bridge gone...tide just flowing over. Shortly the land in front of the lone mangrove would be covered with water.
---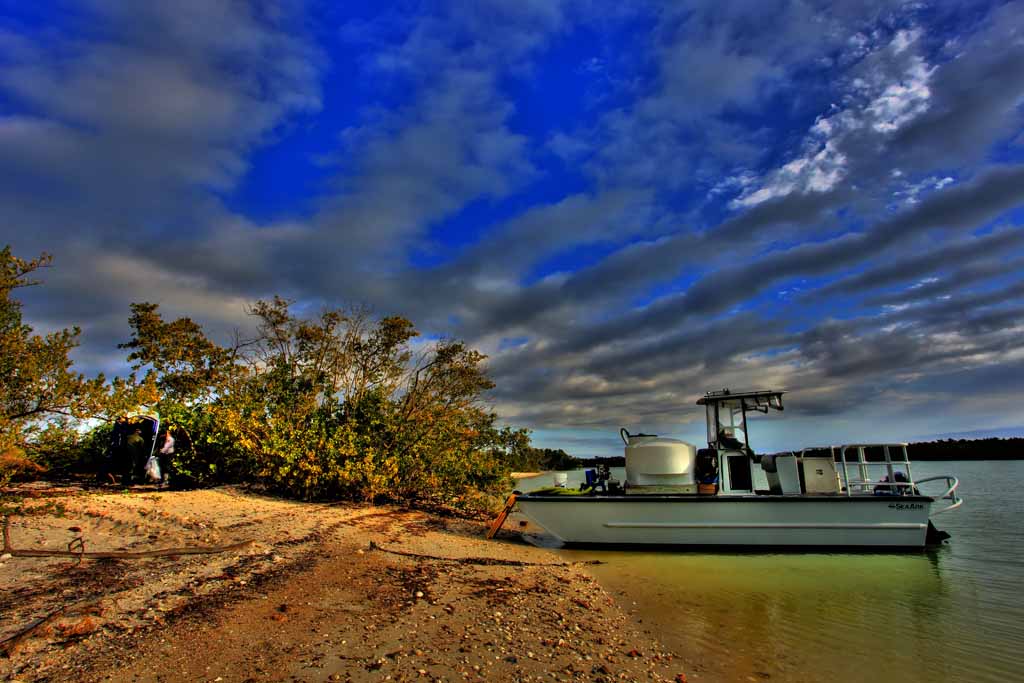 Here is the National Park Service in action pumping out the island Port-o-let. This is the first time I had seen this boat in action. I had seen one brand new in Flamingo on last years Everglades Adventure filling up with fuel at the marina.
---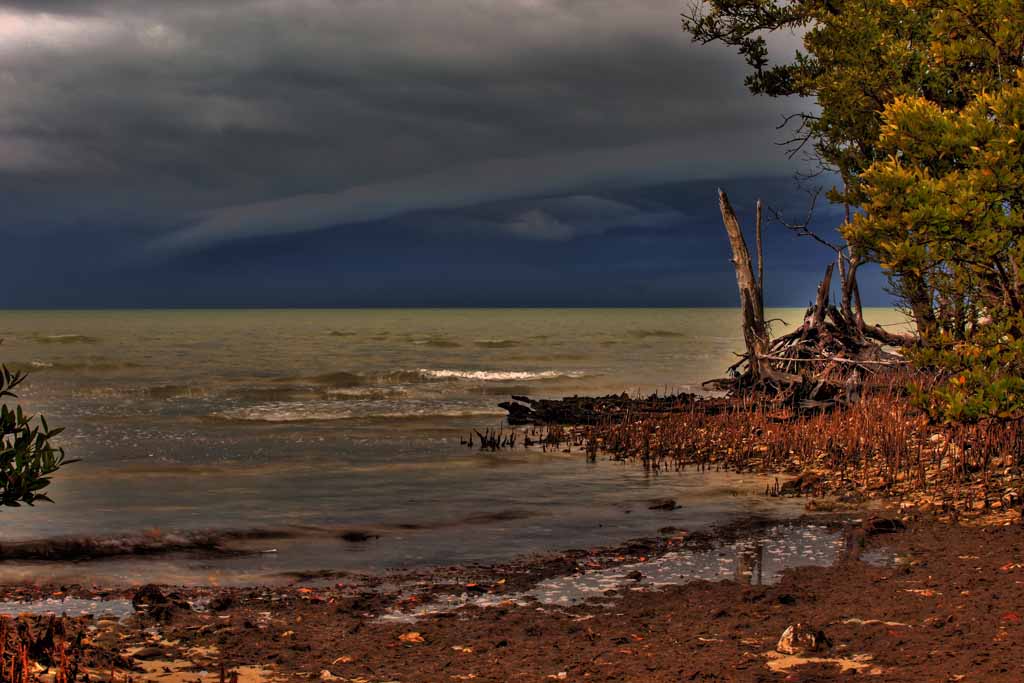 I knew the 2nd artic air cold front would be coming but not this soon. I happened to be out photographing near the Western tip (Gulf side) when I looked up and saw this. Wow, an awesome frontal line all purple blue and gray and moving in fast. I looked for something to reference in the foreground. I had the 70-200mm lens on and really wanted the 17mm wide angle but no time to return to camp for it. So I backed up and snapped away at 70mm.
---
This frontal line was just fantastic as it rolled through in a matter of minutes. The arch carried on over my head for a good way. Just an awesome spectacle to behold on this island.
---
I stood in awe as it passed. At times like these I want to forget about the camera and soak in the action. So I split time taking photos and just enjoying natues art work.
---
I hustled back over to the windward side here to try and catch the other side of this artic air cold front overtaking another cold airmass.
---
As the evening wore on the temperature started dropping fast. I spent 30 minutes or so gathering enough firewood to last at least several hours. Bob stopped by for and hour or so and we carried on about anything. It was all good, just being out here is the ultimate experience. I burnt firewood until around 11 and turned in to my sleeping bag while still warm. The fire glow on the side of the tent put me to sleep, sleep that is until the next noise outside. Things that go bump in the night.
---
Forward --> Day 4
---
Back <-- Day 2
---
'The Everglades Adventure Two' Home
---
paulsedwick.com main page
email paul@paulsedwick.com - copyright © 2009 Paul Sedwick